Markets are cheering the end of the Fed's rate hike cycle, but the gains may be short-lived
Stock markets are surging in November as traders celebrate the end of Fed rate hikes.
Lasting follow-through looks suspect as PMI data warns that global growth has stalled.
Managing a vast global debt load at much higher rates is a scary prospect for assets.
Wall Street is angling for its best three-week run since June 2020. The bellwether S&P 500 index of U.S. stocks is on pace to close with a gain of nearly 2% this week. That would amount t o an upward run of 9.2% from the bottom in October. The belief that the Federal Reserve's interest rate hike cycle is over is driving the advance.
This week, the push higher came in the wake of October's consumer price index (CPI) inflation data. Before that, it was November's meeting of the Federal Open Market Committee (FOMC), the U.S. central bank's rate-setting body. The markets read that as endorsing the idea that hikes ended in July and cuts would follow in mid-2024.
Global central banks seem to be done with rate hikes
As it stands, the probability of more tightening has been fully erased and the likelihood of a 25-basis-point (bps) cut as soon as May now stands at a commanding 84%. A decrease by June is now fully baked into Fed Funds futures pricing, as is 100bps in easing by year-end 2024.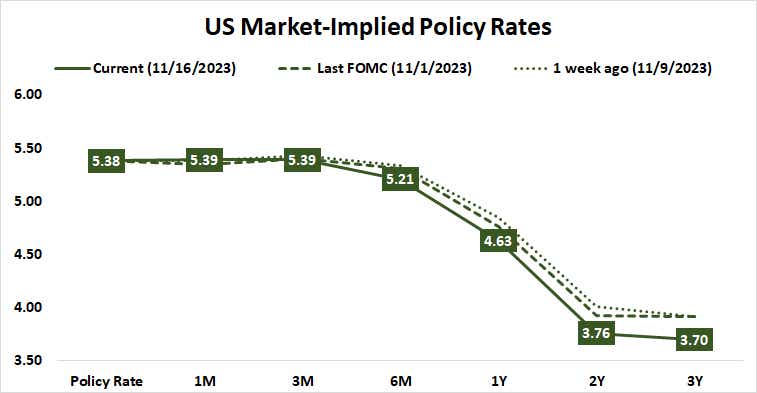 The Fed is not alone. No major central bank except the Bank of Japan (BOJ) is expected to raise interest rates again this year or in 2024. It eschewed the 2021-2023 global tightening cycle altogether and is merely expected to bring its target lending rate out of negative territory to a paltry 0.25%. That is hardly a meaningful divergence from the norm. Meanwhile, the United Kingdom, Eurozone and Canada are seen joining U.S. efforts with 300bps in cuts on average next year.
It isn't surprising that the markets are cheering as the blistering rise in the worldwide cost of capital is ending while a turn in the opposite direction is seen coming sooner and with greater force. All the same, this policy pivot isn't gathering momentum because things are going well for global growth. Indeed, it is quite the opposite. 
Leading purchasing managers' index (PMI) data showed global economic growth stalled in October. A catch-all recession is almost certainly on the menu from here. On one hand, that makes investors' latest celebration logical. On the other, it warns that these heady moves may struggle to follow through beyond the very near term.
Managing vast debt at higher rates threatens asset markets
Perhaps the most obviously scary proposition is managing a historically large mountain of public- and private-sector debt at sharply higher interest rates. As of September 2023, the global debt stock stood at a record-high $307 trillion, according to the Institute of International Finance (IIF).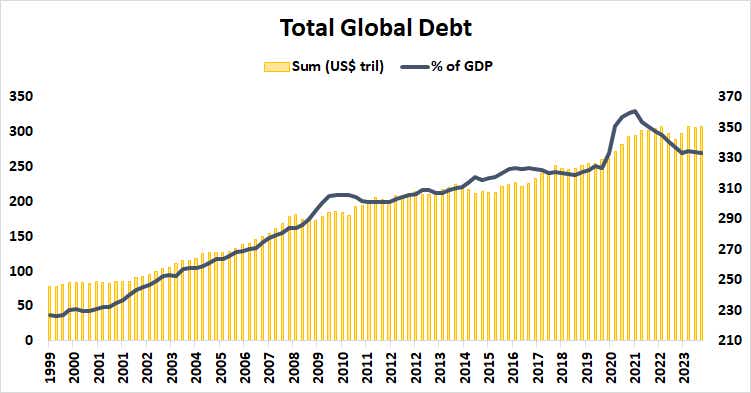 Not all or even most of this vast sum will roll over next year. Still, a pile this large and financed at far lower interest rates means issues with repayment are likely to appear even if a small share of the load comes due. Moreover, S&P Global estimates that about a third is incurred at floating rates, so servicing costs present a risk even before maturity. 
That will be made more onerous still as growth sputters. A rare benefit from surging inflation is that it helps make debts more manageable because repayments are made with money that has been depreciated in real terms. Now, IIF data shows that the global debt-to-GDP ratio has ended a two-year decline as economic output stalls and inflation cools. 
More of the same looks likely ahead, making it harder for troubled borrowers to swallow pressure from higher funding costs. Stock markets will fall, and the U.S. dollar rise if this becomes a forcing function triggering market participants to liquidate portfolios and raise cash.
lya Spivak, tastylive head of global macro, has 15 years of experience in trading strategy, and he specializes in identifying thematic moves in currencies, commodities, interest rates and equities. He hosts Macro Money and co-hosts Overtime, Monday-Thursday. @Ilyaspivak
For live daily programming, market news and commentary, visit tastylive or the YouTube channels tastylive (for options traders), and tastyliveTrending for stocks, futures, forex & macro.
Trade with a better broker, open a tastytrade account today. tastylive, Inc. and tastytrade, Inc. are separate but affiliated companies.