What is a Reit?
A REIT is a "Real Estate Investment Trust" that allows investors to invest in "income-producing real estate" and receive a portion of the income - it trades identical to stock. They tend to have relatively large dividends, making many investors see them more like bonds than stocks. 
Conventional wisdom is that real estate is a good investment during high inflation. Reality is a bit more complicated since it implies that they can combat inflation by raising rents.
If the economy slows, it may be difficult for property owners to continue to raise rates – especially within the office and mall rental space, where vacancy is already historically high due to remote working and changes in buying habits.
Top REITs to watch in May
IShares Trust iShares U.S. Real Estate (IYR)
Prologis (PLD)
Equinix, Inc. (EQIX)
That is an essential aspect of REITs – there are many different flavors, each with its own theme in the expertise of investing in property . Some invest in senior housing (CTRE), cell towers (AMT, CCI), mobile parks (SUI), and single-family homes (O), among other themes.
Here are a few: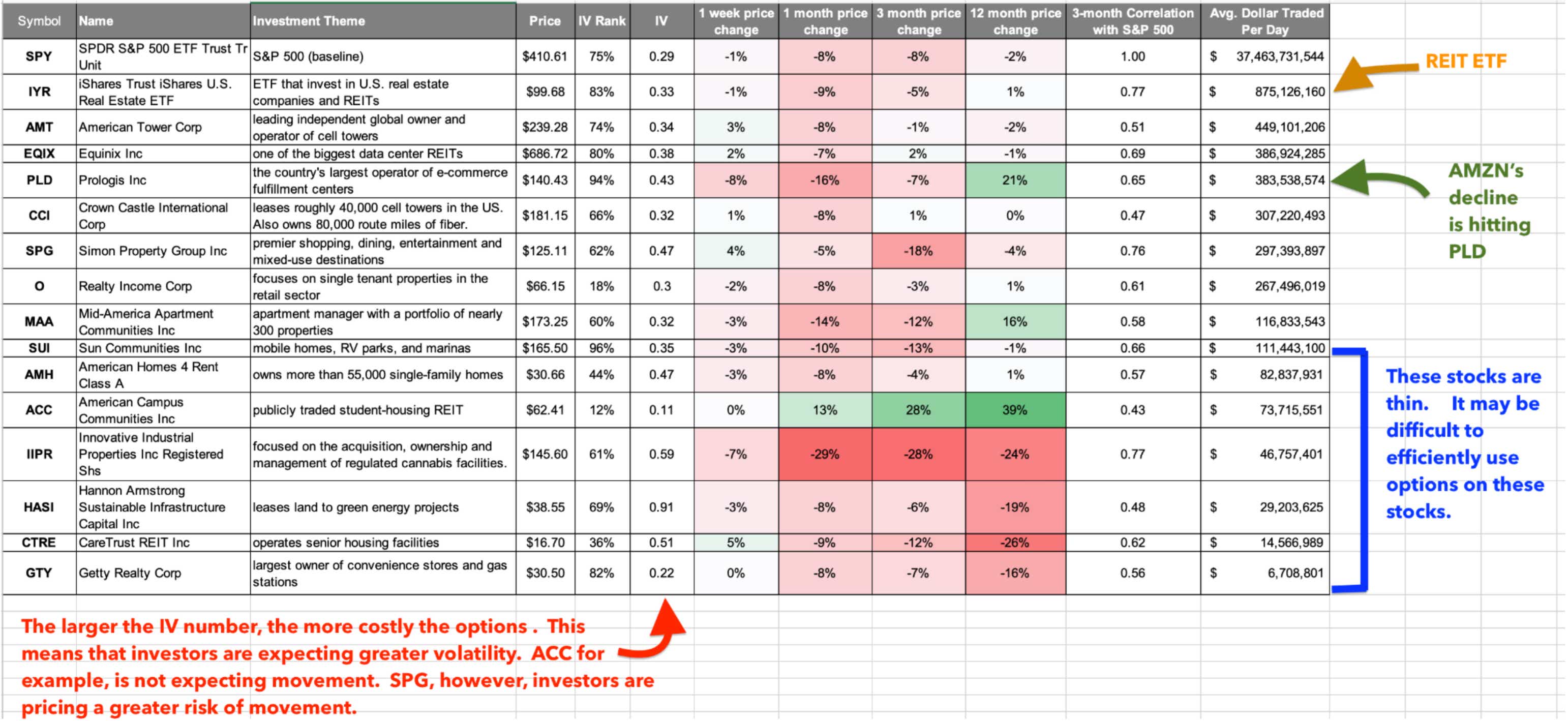 You can trade REITs, stocks and ETFs listed on this page and others on the award-winning tastytrade platform. 1 To get started, create an account.
1.) iShares Trust iShares U.S. Real Estate (IYR)
The iShares Trust iShares U.S. Real Estate (IYR) is often the first choice for traders looking to play REITs. Instead of being specific and confined to a single property theme, it goes for breadth – it is comprised of 90 individual REITS—an average of $875 million worth of stock trades a day. The top 2 of the three most prominent positions are in cell tower property (AMT and CCI).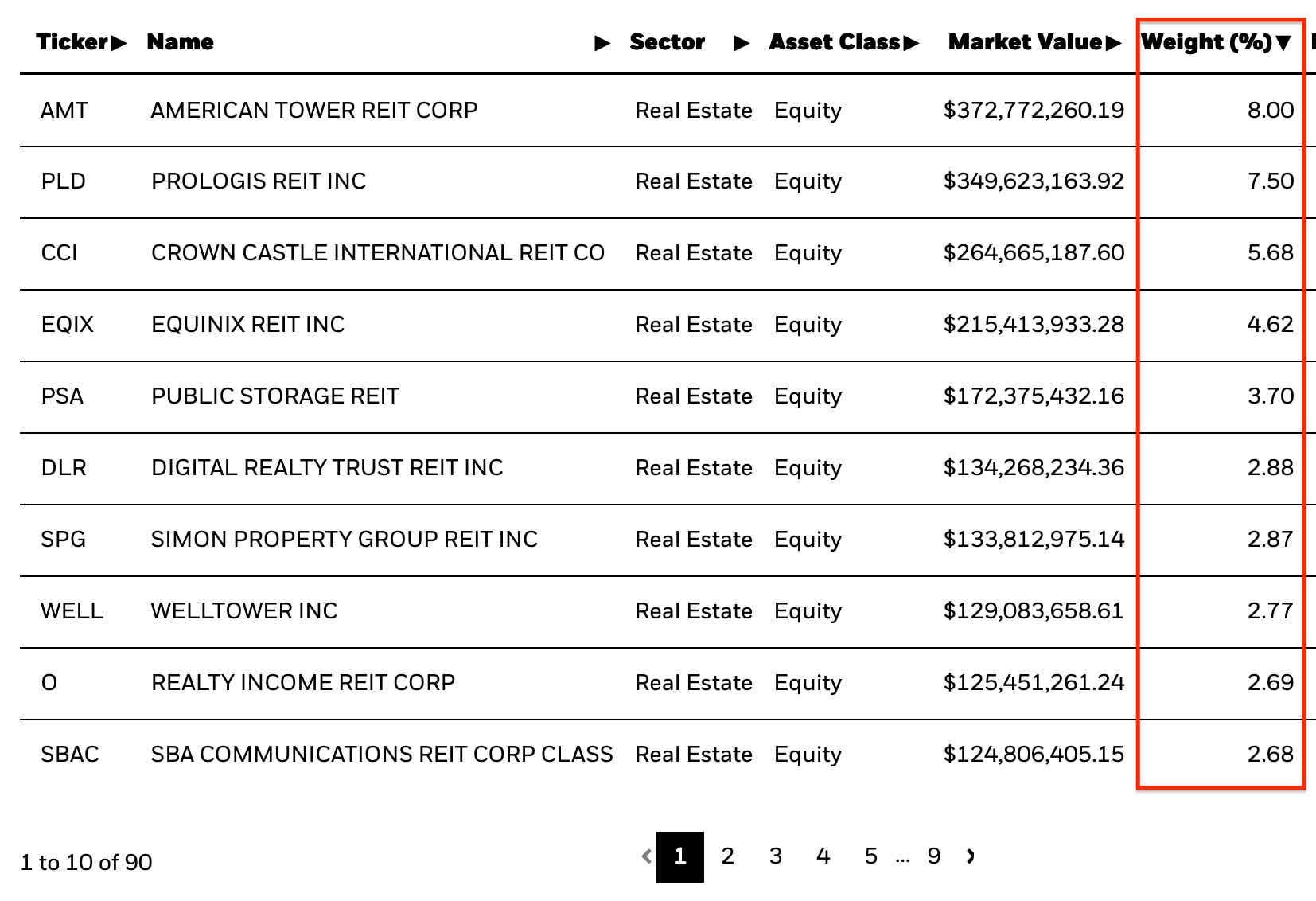 Its current yield is 2.4%. We can accentuate this even further by writing calls against the stock. Look at the 104 call, which has an approximate delta of 30. By selling the June call for $1.70, we are providing roughly a 3.9% increase in the cash-flow or a 2.4% Div. Yield + 3.9%.
The math:
= Credit Received / Stock Price x 365/Days Until Expiration
= 1.70 / $99.83 x 365/40
= 0.155
= 15.5% annualized increase in the cash-flow by consistently selling the call.
This covered call cash-flow provides a buffer against additional downside risk.
2.) Prologis, Inc. (PLD)
Another attractive REIT is Prologis (PLD), the country's largest operator of e-commerce fulfillment centers. Customers include Amazon and Pepsi, along with 5,000 other customers. The dividend yield on PLD is currently 2.33%. This REIT has gotten hit with the decline of AMZN – but it is still up 20%+ for the year.
3.) Equinix, Inc. (EQIX)
A 3rd interesting REIT is EQIX – one of the biggest data center REITs in the world. The dividend yield is 1.81%, smaller than many of the others on this list. The options markets are relatively thinly traded, but it does trade an average of $400 million per day.
For more information on this strategy and others, be sure and subscribe to Cherry Picks (www.tastylive.com/cherry-picks).
For more REIT trading ideas, check our list of the top 10 REITs to watch in 2022.
1 Named the Best Online Broker by Investor's Business Daily (IBD) in its ninth annual survey.
tastytrade, Inc. and tastylive, Inc. are separate but affiliated companies.