Tesla Stock Holding Gains Near 8-Month Highs 
Tesla stock rose 2.23%, or $5.44 per share, on Monday as investors remain confident following positive developments that could signal further growth ahead. The move higher follows last week's 14.22% gain and sets the stock price up for its fifth weekly increase.  
For 2023, Tesla is up nearly 100%, a major turnaround from last year and significantly outperforming the broader technology sector's 33% gain, as measured by the Nasdaq 100 Index (/NQ).
This move has resulted in lower volatility, both across the market and specific to Tesla, which currently boast and IV rank of 19.9. But keep in mind, several events may induce some volatility this week, so traders should maintain a cautious footing.
Tesla IV Rank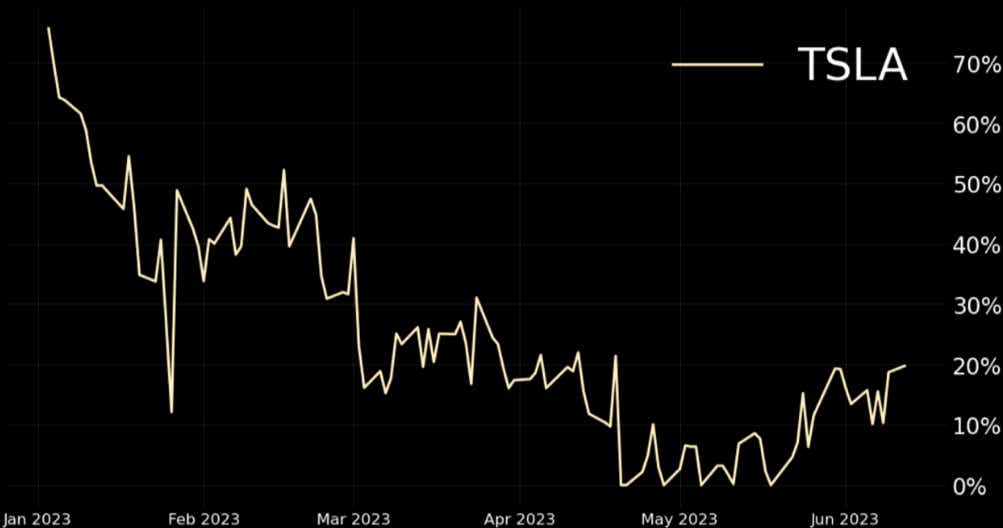 What is Driving Tesla Higher?
Over the previous couple of months, Tesla's charging technology has made significant strides towards becoming the industry standard in North America. Tesla's proprietary charging design is referred to as the North American Charging Standard (NACS) and has only served Tesla vehicles. All other EVs in the U.S. used the Combined Charging System (CCS).
That is changing, however. In March, Ford announced its electric vehicles will adopt Tesla's charging standard starting in 2025. In the meantime, Ford's vehicles will be able to use Tesla chargers with an adapter. 
General Motors (GM), last week, announced a similar move, consolidating some of the largest U.S. vehicle producers under one charging standard, marking an industry shift that puts Tesla's charging infrastructure as the winning horse in this race.
Several EV charging companies also announced on Monday that they would produce connectors for Tesla chargers, including ChargePoint, Tritium and Blink Charging. That brings the total count of companies offering support for the NACS to nearly 20.
Outside of bragging rights, Ford and GM users in the future will add to Tesla's revenue streams by using the growing network of Supercharger stations, which Tesla owns and operates. The move also brings more uniformity to the electric vehicle industry, which should encourage more people to switch from traditional automobiles to EVs.
Tesla Stock Price Analysis
Prices pierced above several technical barriers over the past few weeks, putting the stock price into a tactically advantageous position to continue its upward path. In late May, prices broke through the 200-day Simple Moving Average (SMA), a level not traded above since 2022.
Since then, the pseudo 50% and 61.8% Fibonacci retracement levels from the August 2022 to January 2023 range have been overtaken. That puts the 78.6% Fib up for a test around the $270 level.
Meanwhile, the Relative Strength Index (RSI) is at 86.74, the highest level since late 2019, indicating strong upward momentum. While an extreme RSI reading is seen as a predictor for a mean reverting move by some, it doesn't suggest that a short-term retraction is afoot.