Find out which of our July faves sports an 8.03% dividend
Dividend stocks can be a great way for new and seasoned investors to get exposure to different sectors in all market environments.
Dividends are cash payouts to ETF and equity shareholders that are made on a quarterly basis.
The dividend is taken out of the stock price so it is not an arbitrage event.
The "dividend champions" and "dividend aristocrats" watchlists on the tastytrade platform help us see what companies really focus on delivering an enticing dividend.
What is a dividend stock?
Dividend stocks are publicly traded companies or exchange-traded funds (ETFs) like SPY that offer an incentive to investors to buy shares. The incentive is a quarterly cash payment that shareholders that can count on as consistent. The dividend amount is known ahead of time, and traders and investors can take this into account when analyzing a stock or ETF.
Dividend stocks can be a nice place to park some cash when markets are complacent and not much is happening. Dividend stocks offer cash payouts to shareholders, and some of these payouts can be a sizable percentage of the stock price. If the stock price grows over time, the dividend can be a nice boost to profitability.
The Dividend Aristocrats watchlist on the tastytrade platform helps us see mega-cap companies in the S&P 500 that have increased their dividend for 25+ consecutive years, where the Dividend Champions watchlist shows us companies of all sizes and sectors that have increased their dividend at the same rate.
Let's take a look at Target (TGT), AT&T (T) and AbbVie (ABBV)— three companies that have underperformed relative to their sector for the year.
Target—a well-known dividend stock near 2023 lows
9.9 IV rank
$60.9 billion market cap
2.43% dividend yield
Everyone I know goes to Target (TGT) for one item and leaves with 20, and yet the stock is near the lows of the year as an affordable buy-it-all-here megastore. This Dividend Aristocrat has a market cap of $60.9 billion and announced a $1.10 dividend for Aug. 15, 2023. This is still a healthy dividend, considering the stock price is hovering around $133 after falling from the 2023 high of $181.70.
At over a 3% dividend yield for this year, Target currently has an expected move of +- $21.28 through Jan. 19, 2024.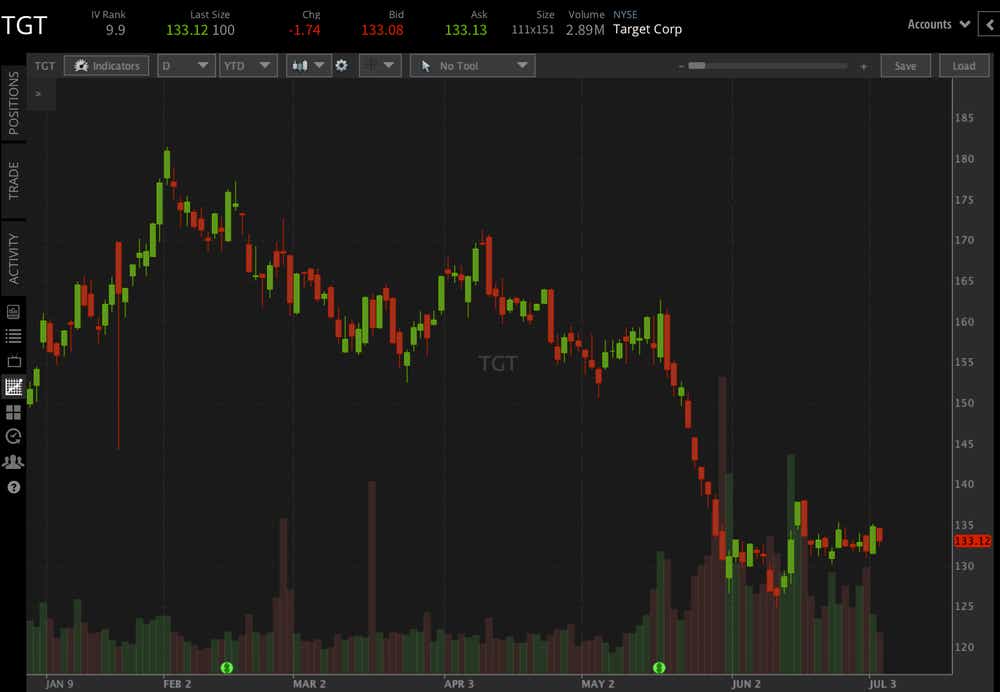 AT&T—a low-priced stock with a dividend yield over 6%
38.4 IV rank
$114 billion market cap
8.03% dividend yield
AT&T (T) announces earnings before the market opens on July 26, so investors will have a better idea of future guidance in a few weeks. This stock is currently trading at $16, well off the highs of $20.48 realized in late January. Rumor has it Amazon (AMZN) may be tinkering with the idea of getting into communications, which would naturally be a competitive nightmare for companies like T, but AT&T boasts a $0.28 dividend announced for July 7, 2023, which is a very high yield for such a small priced stock.
At a market cap of $114 billion, you might think there would be some implied volatility attached to this stock's price, but the expected move through Jan. 19, 2024 is just +-$1.74.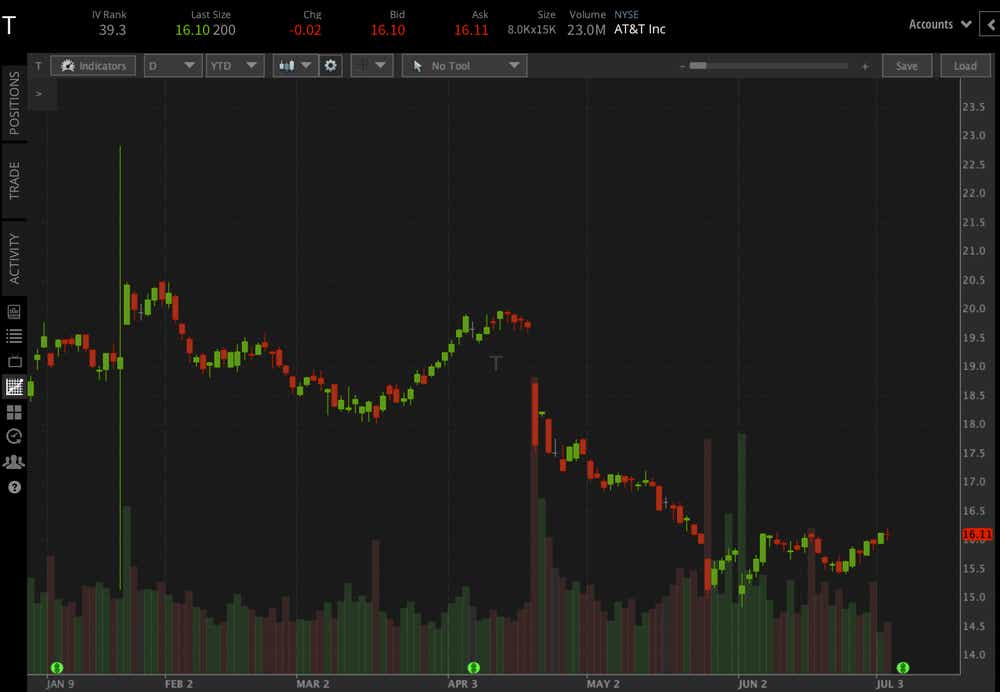 AbbVie—will Botox lift ABBV From the 2023 Lows?
39 IV rank
$238 billion market cap
3.94% dividend yield
AbbVie (ABBV), a Chicago-based pharmaceutical company, has a booming Botox business among other things. The company announced a $1.48 dividend for July 13, 2023, which is about a 4% dividend yield.
The stock is trading at $137, about five points off the lows realized a few days ago. ABBV reached a 2023 high of $168.11 in January and hasn't had much strength since, given inflation and recession worries and how they may affect cosmetic procedures.
The stock has posted gains four days in a row, and with earnings being announced in late July/early August, we may have a better idea of what to expect in the next few quarters.
AbbVie has an expected move of +-$14.65 through the Jan. 19, 2024 cycle.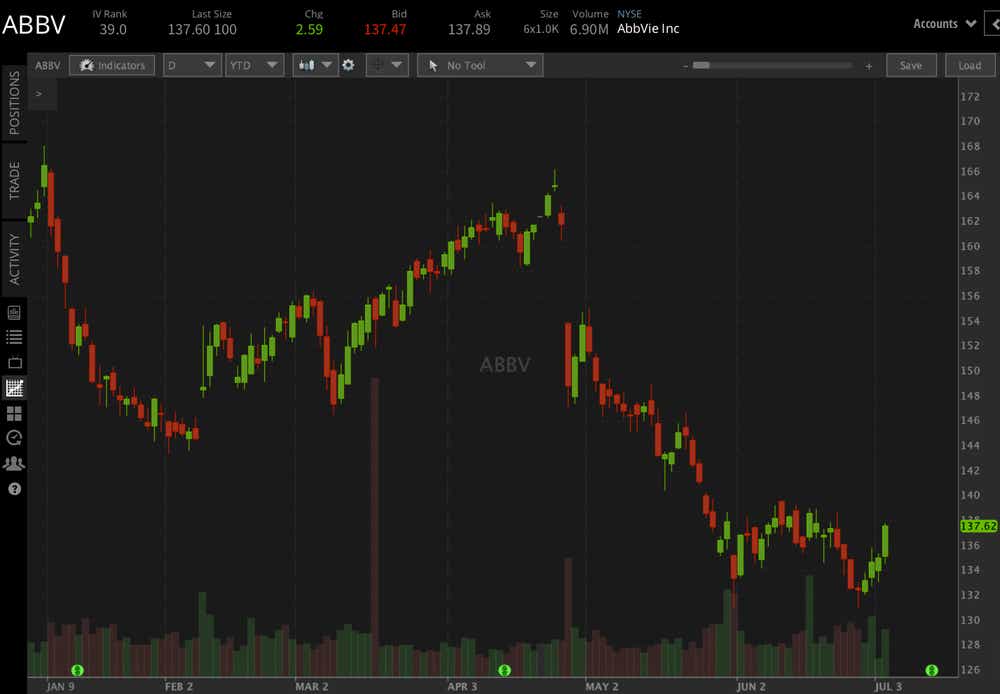 Mike Butler
,
tastylive director of market intelligence, has been in the markets and trading for a decade. He appears on
Options Trading Concepts Live
, airing Monday-Friday. @tradermikeyb 
For live daily programming, market news and commentary, visit tastylive or the YouTube channels tastylive (for options traders), and tastyliveTrending for stocks, futures, forex & macro.
Trade with a better broker, open a tastytrade account today. tastylive, Inc. and tastytrade, Inc. are separate but affiliated companies.