Earnings Explorer week of August 1
The conclusion of the well hedged and anticipated earnings of AAPL, AMZN, GOOGL, META, and MSFT has lead markets higher and volatility lower – but there are still many notable earnings announcements to come over the next couple weeks. This week highlights earnings in the semi-conductor space, growth tech, consumer discretionary, and energy/oil.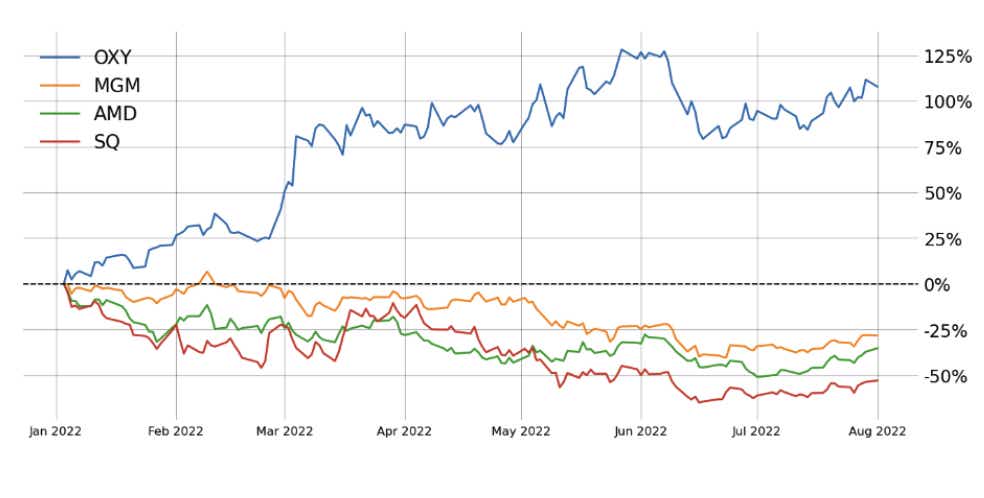 Notable Earnings this week:

AMD ($98)
When does AMD report earnings? After the market close Tuesday 8/2
The chip sector has seen a significant downside through 2022. SMH the semiconductor ETF reached a 52-week low of $189 in early July. The sector has largely followed the recent rallying tech, but most of the constituents including AMD lag below the 200-day moving average (~$113). With an IV Rank of 50 and a monthly implied volatility in September of around 55%, AMD sets up nicely for a neutral to bullish skewed strangle. The September monthly 90/120 strangle trading around $5 has around $11 a day in theta decay and leans slightly long, with a break-even point well above the 52-week high (break even at ~$120) and $85 to the downside. Only using around $1,100 in buying power, this trade managed at 50% of the max profit (~$2.50) has the potential to yield around 23% return on capital.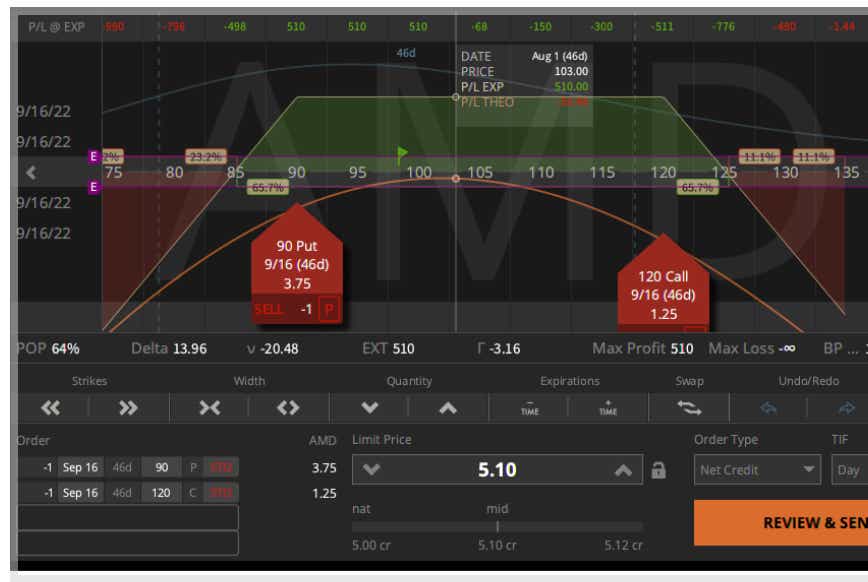 Learn more about how to trade the AMD Q2 earnings

 MGM ($33)
When does MGM report earnings? After the market close Wednesday 8/3
Casino stocks continue to follow the news flow of the reopening trade and the lockdowns in China due to the reliance on Macau, the largest source of gambling revenue globally. Because of the low stock price, MGM options provide a high potential return on capital via a low buying power requirement. The September 30 strike short put with 46 days until expirations is trading for around $1 and only uses $350 in buying power leaning slightly long MGM, but with a breakeven down at $29.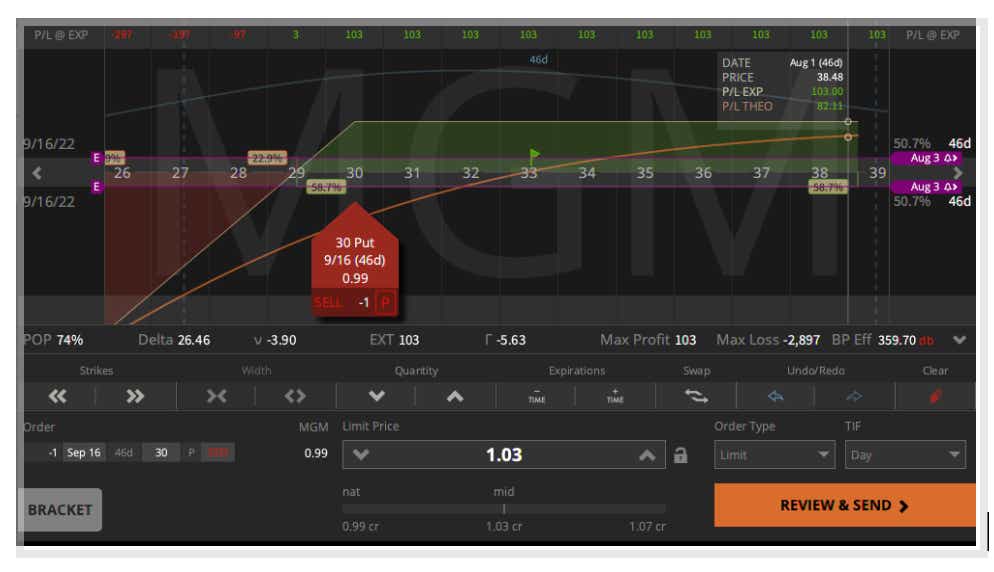 OXY ($64.50) –
When does Occidental Petroleum (OXY) report earnings? After the market close Wednesday 8/3
OXY has been a major beneficiary of the recent rally in Crude Oil, the stock has more than doubled since the start of the year. While oil has pulled back significantly from highs of roughly $120 down to $94, the oil equity names haven't seen the same downside. If you think oil might continue down, diagonal spreads in OXY trade relatively cheaply. Buying the September at the money 65 strike long put and selling the August monthly 60 strike put yields around 20 short delta for only $3.70 debit. This trade is a dynamic delta position that gets more profitable the more the stock drops but is also slightly long theta in the short-term providing some short-term relief if the stock stays sideways or moves up.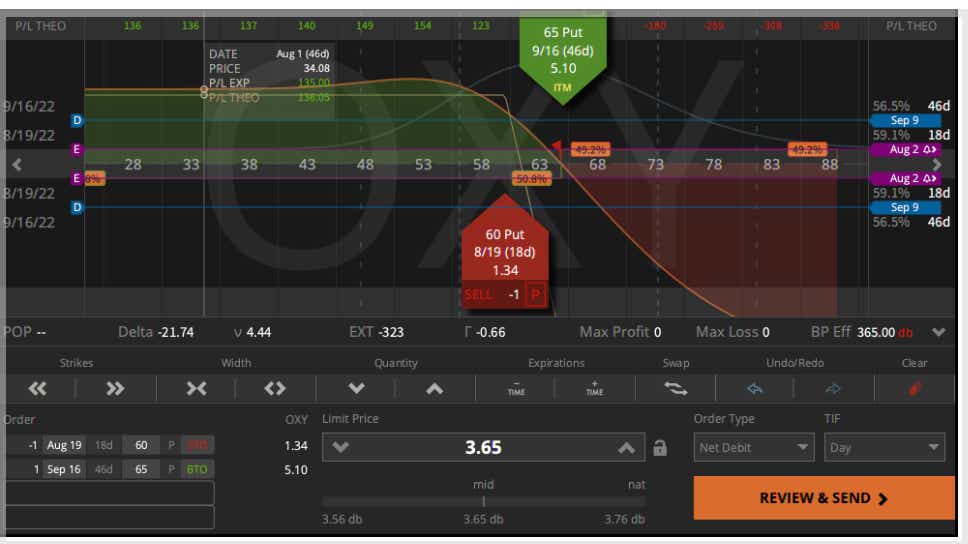 SQ ($77.50) –
When does Block (SQ) report earnings? After the market close Thursday 8/4

High-growth tech has been out of favor all year, SQ among many other names like PYPL has seen greater than 50% downside moves in just over 7 months. Volatility remains very high, IV rank in SQ at 63 with monthly implied volatility north of 80%. If you think the downside has been realized and we might see a relief rally in the space, the September monthly 60 strike put has a probability of profit of 81% with a breakeven price just above the 52-week low. At only $600 in buying power, this trade has the potential to yield 28% return on capital when managing at 50% of the max profit over the next 46 days.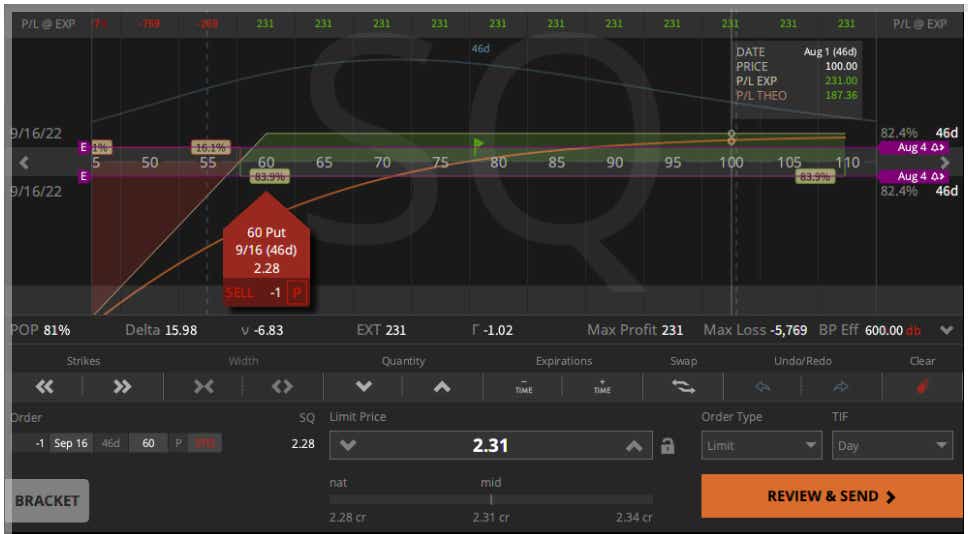 For more, check out the Earnings Explorer video: 
To get started trading earnings announcements open an account on tastytrade!
tastytrade, Inc. and tastylive, Inc. are separate but affiliated companies.